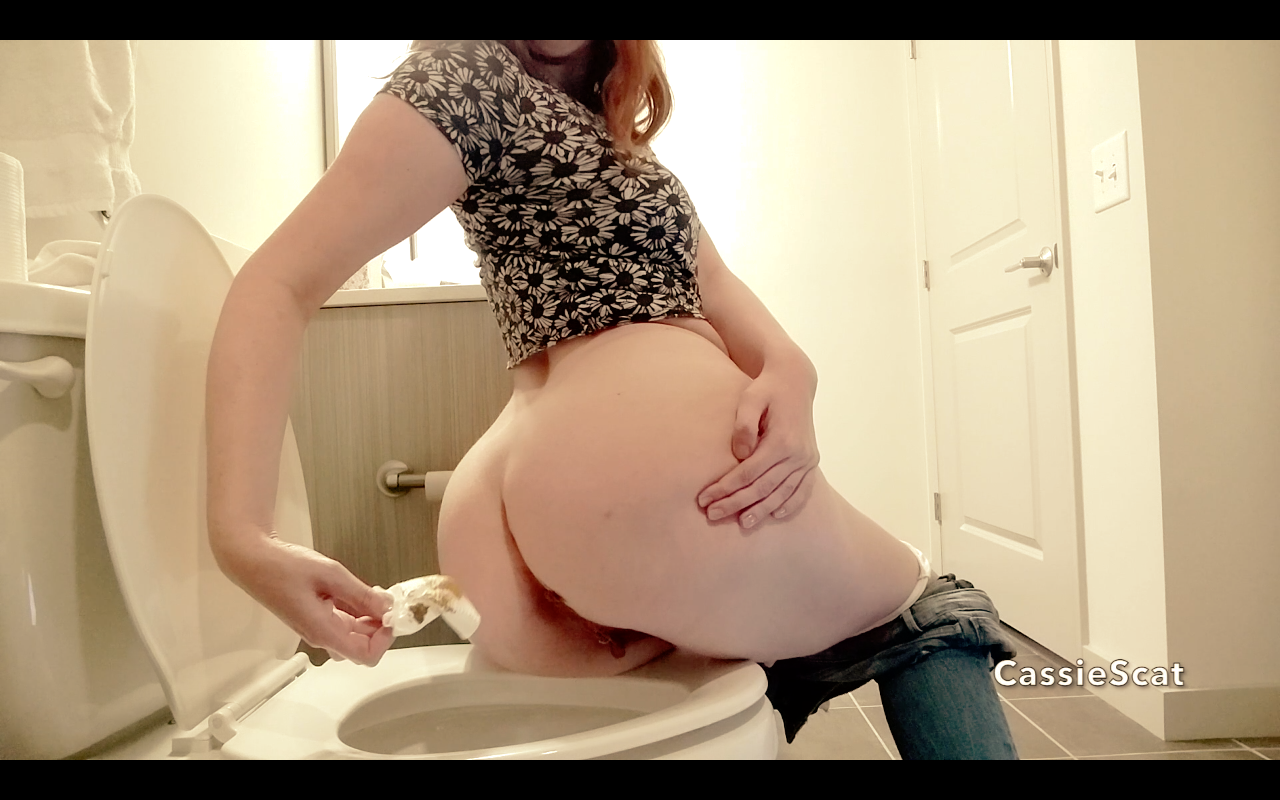 Cassie Scat is the girl next door with a secret kinky side. She is from Chicago, Il. She started out as a clip creator and became a toilet slave mistress. One of our readers had the chance to catch up with her and she gave him an interview. Enjoy.
Let's start in the beginning. Could you tell us, when and how your interest started with scat and toilet slavery? Why did you get into it?
I've always been an exhibitionist so I was on reddit posting sexy pictures when someone asked if I'd be willing to do something a little naughtier. He asked for pictures of my poop and I posted them. After that, he asked for a short video. When I posted the video, many, many people watched it. Then I posted it to more sites and I was addicted! I love having people watch me do something private and taboo.
What was your first reaction to this question? Did it surprise you that guys are interested in seeing you poo?
It did surprise me! And it aroused me. Everyone in the community I found was very nice and helped me learn about EFRO, toilet slavery, laxatives and more. There is so much variety to the fetish. Making videos instructing the viewer to eat and smell and lick and play with my poop has turned out to be a way bigger turn on than I could ever imagine. I hope to meet up with some of my regular customers someday and make the dream a reality!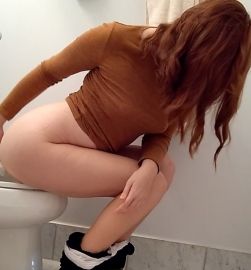 Maybe you could share some of your toilet slave fantasies or tell us what would you do with these customers when you meet them?
I have many different fantasies – pooping onto faces, chests and into mouths, encouraging my slave to eat more and push his limits. I'd love to try one of those open toilet chairs someday. The perfect customers for custom videos are those that introduce new creative ideas and inspire me to try something new. A good slave ignites passion in their Mistress and they can push each other to try new things. I'm very lucky to have a well-paying and very flexible job that allows me the time to have fun and fulfill my fetishes in a way that suits me, rather than just to make money.
I presume a lot of our readers would be glad to help you with your fantasies. But the mistress chooses the toilet, not the other way around. What qualities do you expect from a toilet? Do you have any preferences?
I do have preferences. Communication is the most important thing, as well as being sure that the toilet is actually capable of doing what they say they'll do. Some slaves talk big about eating and play but can't step up! If I've done custom videos with someone, I can tell that we can come up with an idea together that we both love and that is a good quality. Anyone who has eaten there some of their own, or better yet mine shipped to them, has also proven themselves a little.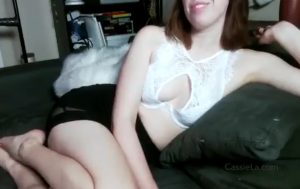 If you were to find a slave with the ability to function as a full toilet and the communication and creativity were flowing, would you consider offering videos with the slave? Or are the solo videos and POV more your cup of tea?
I would be glad to offer videos of my sessions with a film slave someday. I'd never film first sessions, but having many people see me instead of just one is always good for an exhibitionist like me!
Are you offering sessions in real life with toilet slavery? Or are you just using friends with benefits for that?
I haven't done anything yet but I will be making it available to frequent customers soon. I'm not travelling for my job nearly as much anymore so I can finally make that dream come true!
Will this only include your customers which ordered your special goods and consumed them or even to the customers who just ordered your videos?
Knowing that someone likes my chocolate and is capable of successfully eating it is very exciting but not necessary. If we have made custom videos before and we get along, I am happy to consider a customer for meeting up.
So do you prefer an experienced toilet or an beginner one? Would it be something special for you to use a toilet virgin?
The idea of being a toilet virgin's first time is a huge turn on. I have done it through shipped chocolate before. Taking a slave's virginity in person would be an incredible experience and an honor.
Talking about your chocolate. Are you using a special diet to create it? Or can a customer order a custom type of chocolate?
I keep a healthy diet that avoids excessive alcohol and caffeine and I'm sure to be totally drug-free. I also make sure not to ship out anything I made while not feeling well so that my chocolate is always good quality! Sometimes there are requests for corn or laxatives or to avoid spicy food, but most people are very happy to receive my chocolate made from whatever I choose.
Will toilet slavery be the only fetishes you offer in your sessions or are you planing on offering other kinks? On your webpage there are a wide variety of fetishes and kinks that you offer in your videos
.
I have offered in-person sessions in the past for foot fetishes and golden showers so those will come back as well I'm sure. My favorite will always be pooping though. Nothing else beats that thrill!
Tell us about the thrill of pooping. Can you explain what is so special about that you know someone else is eating your poop?
People almost never poop in front of each other unless they've been married for decades – and even then it's something women are very, very shy about. It's so taboo. Most people never think about pooping as something sexual but to watch a tight ass spread open and a woman moan in pleasure and relief. It's so hot! To take it to the next level of intimacy is to have another person eat it. There's so much trust and it's so personal that it's almost romantic.
On your webpage your offering your chocolate or as we call it in Germany "Kaviar" to order via mail. What other special goods are you offering? Do you ship only to the US?
I have shipped everywhere! I have shipped to Europe lot's of times as well as India and even Hawaii. It's really interesting to me that people everywhere have this same fetish. I ship panties, pee, spit, socks and anything a creative customer can think of! I have even shipped a pooped on sleeping bag! My most popular items are dirty panties, vacuum-sealed poop and chocolate brownies baked with my poop in them.
You are offering custom videos. Maybe some readers are new to the concept. Could you explain it? How do they order them? Do they need a script or just a general idea? Are there any limits? Will they only get toilet fetish videos or are there other kinks that you offer customs for? Do you have any preferences for a custom order?
A custom video is exactly what it sounds like: it's a video I make for a specific person, following their ideas, to create a clip based on their fantasy. Nearly all the videos sold on CassieScatStore.com are somebody's custom video if you can believe that! They can be ordered by getting in touch with me on Reddit or on my website and just sharing your idea with me. I do turn down some ideas and if a video doesn't seem like it will turn me on, I won't make it no matter how much money you have. I have a well-paying 'normal' job so I don't need the money and only make videos that are exciting to me. It's lucky that I can make money at the same time but it's unfortunate because I have to limit showing my whole face for this reason. I like creative ideas and I work well improvising but also will use a script if I like it. It's very collaborative with me and the customer suggesting ideas. I love all types of fetish ideas for custom videos! I wouldn't have known about scat or realized how much I loved it unless someone had suggested it. Creative ideas have also helped me learn about making vore videos, which has been pretty fun! The biggest limit is hurting others, so when I make videos in public bathrooms I always clean up after the camera is off ? Simple respect!
Thank you very much for the interview. From the first moment I knew you are really enjoying our fetish and you really like creating the videos.
Thank you for thinking of me! I'm always happy to help more people explore their fetishes!
Continue reading...