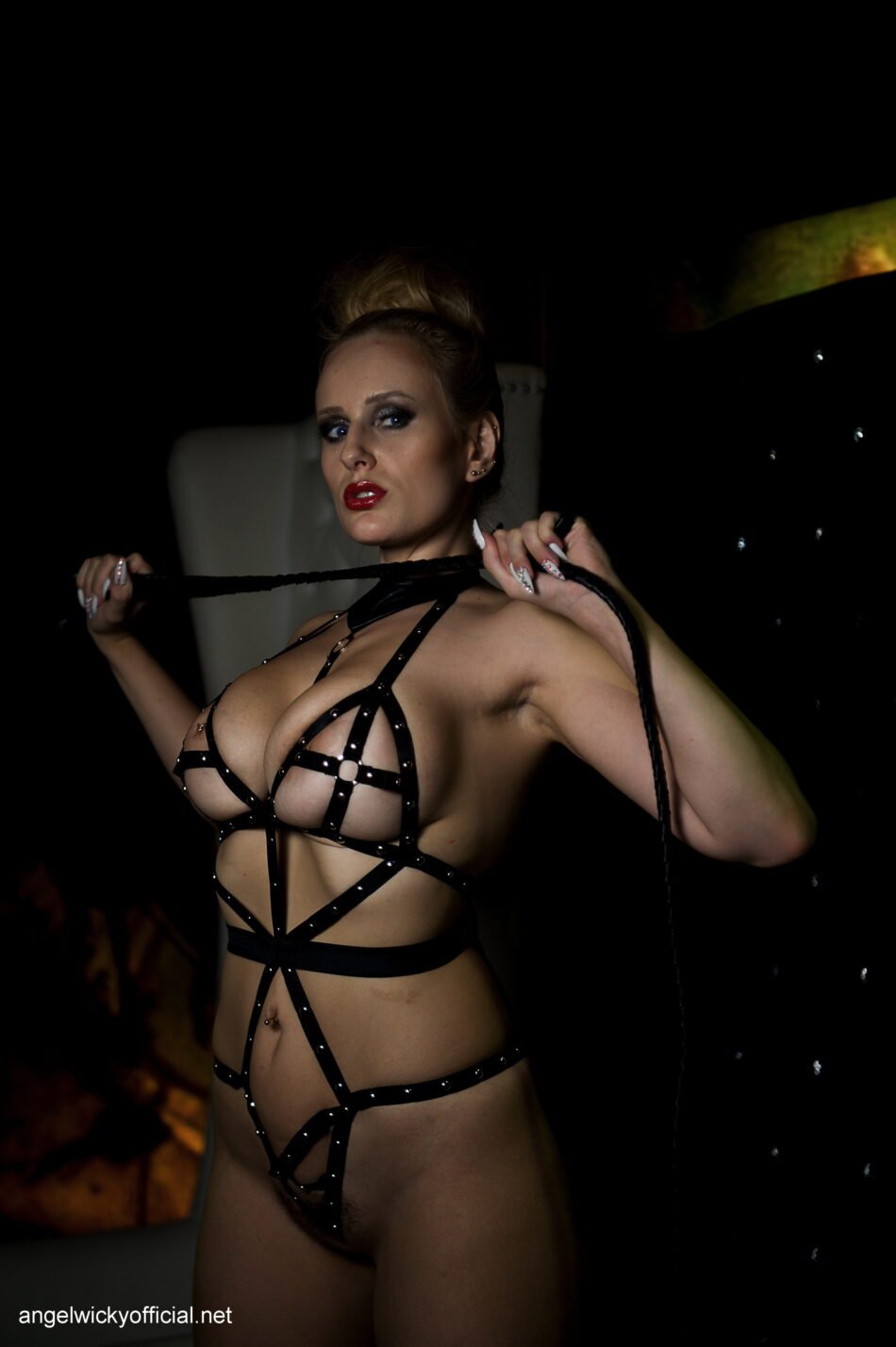 1) What is your name my dear?
Angel Wicky

2) Please give our readers an introduction on yourself, your store(s), and the role you play in bringing these fetish clips to life.
Hi everyone, my name is Angel Wicky. I am a model, actress, pornostar and 6x Playboy Playmate/cover girl. I'm a friendly and smiling girl with a head full of crazy ideas. I love to travel, discover and try new things. My clips are little something I'm making for you in my private life, free time and on my travels. I want to show you something exclusive and personal from my life.
3) When did you first develop an interest in the fetish world? What attracted you to this scene?
I studied singing and acting and I always loved to be on the stage, in front of people, being visible, known and an exhibitionist. I was fascinated by the human body, nudity and sexuality. I got into the adult industry in 2009 when I was 18 years old. Through the years I tried and did almost everything you can imagine, different practices, clothes, things, fetishes and I found myself in it. I love to experiment, try new things, show off and make my fans happy and horny.
4) What specialty is your studio most known for, and what are some of the other fetishes viewers will see in your videos?
I'm a curvy girl with big boobs, blonde hair, blue eyes and hairy pussy. I love piercings, costumes, latex, leather, I'm bisexual and dominant. I love to play with girls, make love to them and make them cum. I like dirty talk, BDSM or jerk off instruction. I'm trying to do every video a little bit different and have fun with the variety or fetishes and possibilities.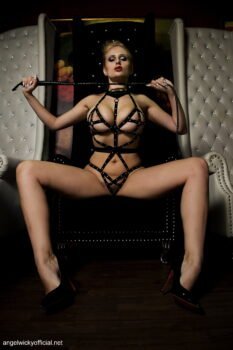 5) What do you personally like to see in porn, and what turns you on in your personal life?
I want to see real fun, real feelings, excitement and enjoyment. That's my credo. Do what I want and makes me happy. In my private life as well. I need a real connection, love and trust with my partner. So I can enjoy our life and intimate moments together.
6) What are some of your turnoffs – both in porn and your personal life?
High and mighty attitude, lying, rude behavior, forcing me to do/say something or giving me orders.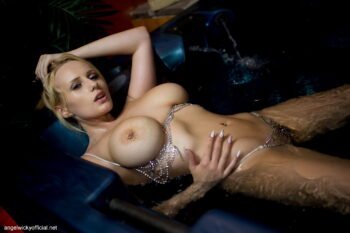 7) In your opinion, what makes a good fetish scene?
Do what you really like and enjoy.
8) Are there any fetishes that intrigue you, but you've yet to explore for one reason or another?
As I said I've done almost everything but I don't like being submissive, bondaged, beaten, humiliated, gagged, deepthroated, also swallow or swapping. I will not do it again. I'm also not fan of pissing/golden shower, anal, double anal or double vaginal, but I do it for my fans. On the other hand normal double penetration (vagina+anal) could be pleasant.
9) Will you be attending any conventions this year? Any industry events fans should look forward to?
I already have been on XBIZ and Venus Berlin, Erofest in Slovakia, planning to go to on Erofest in Czech Republic, and since I was nominated on XBIZ Los Angeles as well I will try to get there and to the AVN. Everyone is very welcome to come and meet me.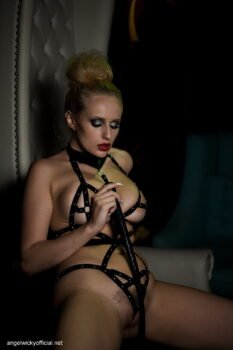 10) What do you like to do when you're not making fetish videos?
I like to spend time with my family, horse, friends, cooking, watching movies, read books, travel and explore new things.
11) Fetish activities aside, what's your idea of the perfect evening?
Sometimes I prefer to be alone or with my family and just relax, have a nice dinner and watch movies. Other times I like to play table games with my friends. Dungeons and Dragons or dance on Just Dance.
12) If you had to define yourself in one word, what would that word be and why?
That's very hard because my name is my definition. Angel Wicky – Wicked Angel. Sweet and innocent but devilish and naughty girl.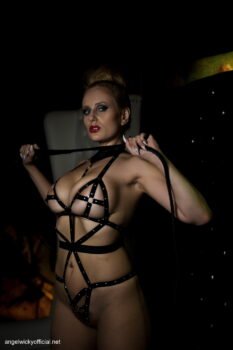 13) Please share an unknown fact that your followers would be surprised to learn about you?
Hmmm…Honestly in 9.5 years in the business and a lot of interviews and posts on my social networks I said everything I wanted. But for example I prefer not to wear makeup and styling in my everyday life. I like to climb trees, I'm addicted to guacamole and I can't live without a warm electric blanket. I think if you check out my social networks there is a lot things to surprise you.
14) What does the future hold for the fetish film world in your opinion?
I think it will get bigger, more wide and acceptable. Human sexuality is something to evolve, cherish and enjoy.
15) Thanks for giving us a little of your time. Anything else you'd like to share with our readers?
I want to say you are amazing people, I'm very grateful for your positive energy, support and love. I hope my clips will brighten your day a bit and you will enjoy watching them as much I enjoyed doing them. Kisses!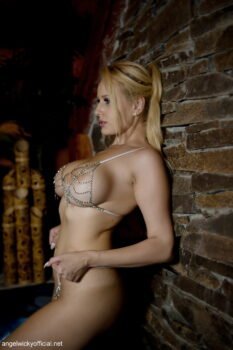 Continue reading...