Staff member
Mar 18, 2020
10,103
3
38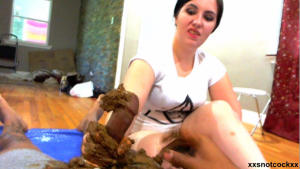 Interview with scat lover and video producer sntck
Some of you have asked us to do an interview with a producer.
If you are one of them, we have some good news!
Our
new interview
is with sntck, a scat lover, performer and producer.
1. Dear sntck, could you introduce yourself?
Hey sntck here, I love white girls lol
I have a nose fetish – the bigger the better, same with turds I guess lol
2. What was the first time you heard of toilet-play?
I first saw scat on 4chan i think, they post anything and everything. Ahhaha
3. Could you describe your first experience?
Well the first time i ever had shit on my dick was also the same time i lost my virginity!
She let me fuck her ass and when i pulled my dick out it was covered in a streak of shit…I was like 16 at the time so my brain didn't really process how hot it actually was, haven't had any shitty anal since
4. What is it in scat-play that you like so much?
I think for one its that I'm obsessed with ass in general, PAWGs are the best.
Its just so hot watching it come out lol
I also love how it feels on my dick, warm and gunky!
I think i worked my way up to this point since high school. There was a girl who always let me stink my hand down her ass crack in class, i wouldn't wash that hand and would sniff it forever! ahahahha
5. We saw you shoot some video's with well known scat stars. How did you got in touch with them
Via scat sites and PM's really.
I messaged a lot of people and got rejected a ton before I struck gold.
6. Will there be more videos in the future?
For sure, I'm addicted to making videos to be honest.
The whole process is fun for me.
My ultimate plan is to make enough money to hire A-list Pornstars to shit on my dick, Jynx maze gave me hope when she dropped that shitty anal scene with mike adriano, shes definitely the nastiest a-Lister and i feel like she makes other girls more comfortable in expanding their horizons.
7. What a-listers would you book if you could get any one you wanted?
Jynx for sure, Kagney Linn Carter would be a must, I don't even eat shit but i would definitely let her dump in my mouth, shes my favorite, have you heard her voice??
Its beautiful lol.
I would also have to book Annette Schwarz, Sheena Shaw,Jayden Lee and Layla Price.
8. What was your best session? Which one the most disgusting?
Bellona Barf pizza puke, she was SOOO into it. Whole pieces of food globs were coming out of here mouth <3
9. Did it take some time to get used to shit?
Nope, Iwas already super into it. Every time it happens I'm just in awe lol
10. What are your kinks besides scat-play?
Girls puking on dicks, blowing their nose on them, sniffing cocks, face-sitting <3
11. Do you have any goals as a scat player?
I just literally want to make the nastiest porn anybodies ever seen, I also like to really give my fellow forum lurkers exactly what they are looking for scene wise….that's actually why I started making porn..I was mad that people weren't filming what I wanted to see, so I just did it myself.
12. Have you ever worried about health risks? Do you take any medicines or something like that?
Oh for sure I worry, but I'm scum anyway lol
I welcome the filth, I just always hope I have enough money to take care of repercussions if they arise, health risks don't inhibit me though.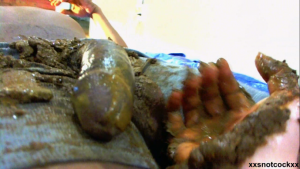 13. Do you any advice for other people that want to be a toilet slave?
Yeah just search fetlife, twitter and scatshop forever and you'll find someone lol lurking/the hunt is part of the fun.
14. Where can fans find your work?
check my twitter! Its my main source of operation
https://twitter.com/xxSnotCockxx
15. Any last things you would like to say to your fans?
I just really appreciate the support from you all and also feel free to message me anytime fans, I love to see what my fans are looking for in scenes and then deliver that for them. Stay nasty!
16. How do you feel about Scat Porn and it's current influx online? It seems everyone and their fucking daughter has started doing it, and a lot of it is just for the money, not for the love of the content, or because they actually enjoy doing it.
I think its great to be honest, that means more people are expressing themselves and viewers have a wider variety of shit to choose from lol!
Some vanilla porn stars do it just for the money too, this doesn't really bother me if they're still good at acting, but the best are always the ones who genuinely enjoy scat
.

17. What is your heritage/nationality, and do you find it relatively easy to find willing participants for your films?
I'm mostly African American but i have some Native American and Caucasian in my blood also.
Its very hard to find willing participants because I'm picky lol
Fetlife is a gold mine, anyone can find a partner there, you just gotta lurk.
18. I have become increasingly aware of girls in the "industry" who seems to be faking their scat. I have even been told recently by two very well known "scat" girls that they fake their videos, in order to push out more content (no pun intended). How do you feel about this?
It's cool with me actually, if its brown and coming out of her ass I'm probably going to cum regardless lolol!
19. You mentioned that you source most of your girls from Fetlife groups, any hints/tips on which groups and where someone may find some girls willing to be as experimental as your finds?
For sure, look up hook ups and kinky classified groups for your city, some more good groups are starve me pretty, the scat playroom, and extreme throat fuck.
Browse through the members tab of the group and click on people from the same city then message them.
Always be polite and professional. Some people will ignore you or turn you down but that comes with anything in life, just dig hard until you strike gold.