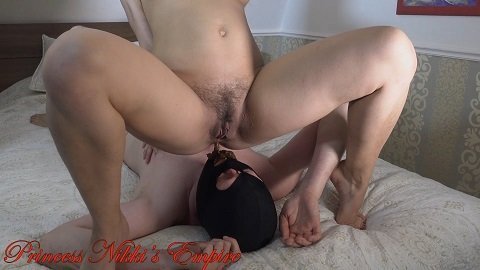 First, you should have a feeling already whether she is playful in bed or not. But then again, no one can really tell. You can have a girl that does everything but appears shy on the outside. In fact, she is your partner or girlfriend and you want to make her know that you have this fetish or at least some fantasies about it.
She also has a right to know. Even if she knows that you have this fantasy and she will never do it in reality makes you feel a lot better.
Ok, so how to get girls pooping on you?
It is unclear how many people are into this. People that are into other "alternative" sexual like BDSM are more inclined to like this fetish. More men than women are into scat. Judging from the internet, there are many men into this kink.
Lots of forums, boards and sites are dedicated to this fetish.
Judging from Google, there are around 50 000 women and men every month searching for the term "scat sex" all over the world. And that is only for that term. Taking all other possible terms into account, this number easily increases to 100 000 searches.
Talking about scat sex
You could tell her that you once had a friend that had pictures or films of that, formerly, you had footage about people peeing and even (make a strange face) shitting on each other. Try to see her reaction. Most girls will be grossed out. So if that is the case, say boldly that you liked those kind of vids or pictures somehow, but you would never do something like that in reality. It is just a fantasy.
Tell her that having this litte perverted fantasy makes you feel a bit ashamed. If she feels sorry for you, the better. If, however, she does not feel sorry for you at least a little, become offensive. Tell her that having those fantasies also has good sides to it. She might ask why. Tell her that:
1. People into those fetishes are much more trustworthy and faithful. In fact, if you and your girlfriend share this fantasy, then this could create a stronger bond between each other than right now, because it is much harder to find a new girlfriend or become unfaithful than if you were just into normal stuff.
2. Girls pooping on you is not that terrible anyway. In fact, there are much more sick things in the world like that (I don't wanna go into it right now)
3. If you go to the toilet, after you have done your pooping, do you run out and stick your head into the first bucket you can find? Of course not, so why would dropping a load onto someone be any different? It is all in your head. Because you think doing it into the toilet is right, and elsewhere is morally wrong?
4. Don't you wanna become kinky sometimes?
5. Maybe the girls who do that kind of stuff have had some alcohol before…
6. Be glad I saw these kind of movies and pictures, because that way I am very open in bed. Or do you want to have a boyfriend that is only doing vanilla love, and never goes oral and never fulfills all your fantasies?
So those are a couple of things you could say. You could put reason Number 1 in last place for special effect.
If your partner is still totally against it (don't force anything), then just quit talking about it for that day and just say: Yes, there are strange people out there, luckily I am not into that and I just saw the pictures and other stuff. But if she is just a bit playful, she might say, ok show me some of those videos. Do you still have them? In that case, show her harmless shit videos, not extreme stuff at the beginning.
Writing about it
You could also do the following: If you are a good writer, write her a letter how you would like to do love to her. You know, dim the lights, it is the weekend, you both get aroused. Then you would suck her clit, her tits. Then add a little licking her asshole. Or that she squirts and she pees on you a bit. Just add it into the letter. She might read the letter when she is alone and get horny. You could then lick her ass and do rimming on her and it is perfectly natural.
During Sex
You go oral on her, and each time you become a bit wilder and desentisize her a little bit more. This is also good for you in case you have never experienced that kind of fetish. So you could start licking her ass with your tongue, or you could bury your face in her ass cheeks. If she later says you been wild tonight, or what was that, you say yes I have a wild side to me. Do you like it? If she says yes, just go on and do it again and again. Only after ten times or so, when it has become natural, stick your tongue into her ass. Tell her it feels good for you. Just say she makes you feel kinky and horny. Then, you could say once, you felt her shit on the tip of your tongue. It was crazy but you liked it somehow.
If you go on like that and further push the limits, one step at a time, you might get to the ultimate goal: scat sex or piss sex.
Joking about poop and sex
You could joke about pooping girls, shit or piss love. Like if you walk with her in a forest, or you are with her in a car, you could hold your bladder and say: I really must go now. Please let us stop. If she argues, say: …or I will pee into your mouth. Or if she has to go, say something like this in a joking fashion: …and even if you pee into my mouth, I won't stop now. Of course, these jokes alone won't get you into scat sex, but you could probably already see her reaction and get a general feeling how she reacts to it.
Well there you got it, some tips about how to get your girl pooping onto you.
The big picture
Do oral sex often until it's second skin.
Do rimming on your partner (do this often until he/she is comfortable and it's no big deal anymore) Tell you like doing that. If she enjoys getting licked, great.
Put a finger into your partner's ass during sex. Later you smell it and say "tastes good, didn't know shit tastes that good" (do this regularly)
At one time, during rimming, you might feel scat. Tell that you felt scat and that you don't care.
Make jokes about shitting into your mouth.
Say you wanna lick her after she has gone to the toilet, without cleaning off. You can do this after you two had alcohol maybe.
At one point, you will have shit on your tongue or face. Make fun of it and say you like it. Later, after sex, you say, you wanna do this again.
Tell her she can poop into your mouth. You don't care, even if she is not gutsy enough to do it…
Good luck!
If everything fails then….
You can still try some of the numerous extreme dating sites on the internet.
Continue reading...