Staff member
Mar 18, 2020
10,017
3
38
Good news for all users – we post newest interview with
Samantha Starfish
on our
interviews section
!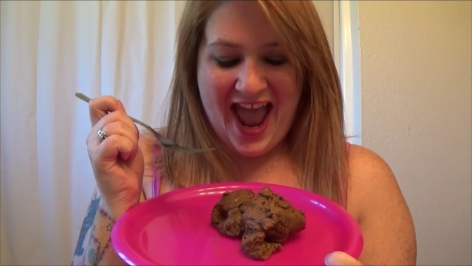 You can read the interview below:
1. Hi Samantha, could you introduce yourself?
Hello! I'm Samantha Starfish. I'm 28 years old and I live in Portland, Oregon, USA.
I make super awesome scat porn!
I think my porn is awesome because I really enjoy making it. I love playing with my poop and I love knowing so many people are watching me be a filthy, dirty girl!
2. You probably heard this question before, but how did it all start?
I was first introduced to scat play by a very special friend just about three years ago.
I freaked out at first but after a while I grew to love playing with my poop!
I started making videos of me pooping with my phone to send to my friend.
Then I realized that I could sell my little videos! I was shocked when people actually bought my porn!
Now, it's the best part of my life!
3. What do you like about playing with poop?
I guess I don't really know why I like it.
It turns me on and makes me feel sexy.
I love knowing that people are watching me being dirty.
And I love sharing my most private intimate acts with everyone who buys my videos!
4. What is your favorite texture of poop to play with?
I love moist poop for smearing but I love those hard little turds for eating!
I can find pleasure in all kinds of poop!
5. I saw that you used a toilet slave in your videos. How was that experience for you?
It was an amazing experience!
I wish you could have seen my face when I got up and saw my poop in my toilet slave's mouth!
I was so proud that he had actually held his mouth open for my shit!
It was a little difficult because I got stage fright!
It took a while for me to be able to poop!
But I had so much fun! We have plans to make more videos soon!
6. I like the fact that you also made some farting videos.
Is it for your fans or do you also like to fart yourself?
I started making farting videos for my fans.
They are really difficult to make since I can't fart on command.
It is also difficult to edit the videos after I make them.
But I really enjoy the final product!
And I do love to smell my farts!
I get really turned on my the smell!
Now I make them all the time even though they are a lot of work!
7. Do you have any fantasy which you would like to become a reality?
I would love to find a girl that was also into scat!
I've met a few but they all seem to just be in it for the money.
I don't think they enjoy it in the same way as I do.
But it is definitely a fantasy of mine to have a fun girl to get dirty with!
8. What kind of fans do you like the most?
I like the polite fans the best!
I get a lot of creepy messages!
It is kind of off putting.
I like fans that actually buy my videos and don't try to steal them.
I work so hard and I put so much of my time and money into making my videos.
It is frustrating when people don't realize all the hard work I do and try to watch my porn for free.
I also love fans that leave reviews!
Most of my fans are really amazing!
I love knowing that so many people love my porn!
9. Do you have any advice for the guys that are trying a scat partner or wanting to be a toilet slave?
That's a good question!
I made an entire video just answering this question.
Best advice: Don't be creepy and take no for an answer.
Most people are taught not to play with their poop.
It is dirty and disgusting.
So it takes a lot of time to learn that scat play can be fun and sexy.
If you find someone who might be interested, take it slow!
I've met a few of people who are into scat play at kink events and sex clubs.
I've never met anyone from the internet.
It is tough finding someone!
Good Luck Everyone!
Thank you Samantha for this interview!